May 5, 2020. This piece is shared as part of Pledge 1%'s #GivingTuesdayNow campaign, which highlights how Pledge 1% members and the business community are coming together as a force for good to combat COVID-19.
Even before the work from home order came from the Governor of Virginia, Ostendio had a crisis management plan in place. We had talked to our employees about working from home and our concern for their safety. As a leading provider of cybersecurity and risk management software, we know about the benefits of having a Business Continuity Plan in place. Our team in the US was prepared to work from home and our India team was able to quickly transition to home offices too.
"Ostendio realizes that not all companies are prepared to face this kind of crisis," said Grant Elliott, President and CEO of Ostendio. "That is why we are offering free MyVCM Select licenses to new and existing customers to ensure cost is not an impediment to security during this pandemic."
[Ostendio offers free MyVCM Select licenses]
Companies can quickly set up all employees and remote workers to take advantage of the MyVCM platform. By using the platform they will be able to manage and locate assets such as laptops that are issued to remote workers, have a central location for employee emergency contact information, manage policy changes, track exceptions due to the crisis and keep employees up to date on training.
For existing customers, Ostendio has also offered a free COVID-19 vendor assessment template within the MyVCM platform to help companies manage their vendors during this time of increased risk.
Ostendio continues to support its community during the COVID-19 pandemic, including providing Arlington Free Clinic and La Clinica Pueblo with free access to the MyVCM platform. Ostendio is also continuing its long-standing relationship with the Mattie Miracle Cancer Foundation with a donation to support their virtual walk on Sunday, May 17th. This wonderful organization is dedicated to increasing childhood cancer awareness, education, advocacy, research and psychosocial support services to children, their families, and medical personnel.
Ostendio is supporting employees with equipment to set up a home office and paid time off due to illness caused by COVID-19 (either to themselves or a family member). We were recently honored as a Best Place to Work 2020 company by the Washington Business Journal and have been a Pledge1 member since 2017. Find out more about Ostendio at www.ostendio.com or on Twitter @Ostendio.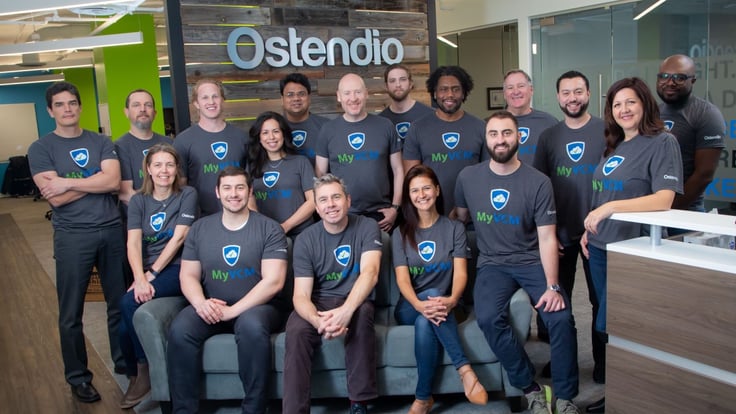 Pictured above: The Ostendio team in the Arlington, VA office.