Calculating the return on your security and compliance platform
Security and compliance teams are no strangers to fumbling through compliance spreadsheets, answering endless back-and-forth emails, and incessantly reminding employees to complete overdue training.
As a result, the industry has seen a growth of GRC tools and security and compliance solutions.
Below is a in-depth look at how much a GRC tool costs, and how you can make the case for a GRC tool with proven ROI.
Justifying a compliance investment is a challenging undertaking. After all, you're already investing several resources to manage security compliance:
You're employing

auditor services

for your next audit





You're investing in multiple tools for training and documentation





You don't have the time to onboard new software across your


organization (It's hard enough to get colleagues to complete training on time! Getting buy-in to a compliance tool is a project in itself.)
How to determine ROI on security and compliance platform
To help you quantify the ROI on a security and compliance management tool, we've calculated time savings based on historical data of small to medium-sized organizations using three core compliance transactions: documents, training, and tasks.
Let's take the scenario of an organization with 100 employees. On average, an organization of this size will manage 50 documents, 12 security training courses, and runs about 50 recurring security tasks over the course of a year.
By using a security and compliance tool, an organization of this size could save time, reduce redundancies, and eliminate additional costs.
It should be noted that not all GRC solutions are created equal. At minimum, a platform should have all these capabilities built in to reap all the benefits of reduced effort and cost savings:
Replacing evidence collection via spreadsheets, emails, and portals with a centralized operational platform


Collaborating with auditors within the same interface


Cross-walking evidence across multiple security frameworks


Auto-notifications and reminders for acknowledgements and trainings


Document storage and version control


In-app document editing


Built-in training courses and custom trainings


Asset management


Vendor management


Workflow automation


Ticketing system


Compliance tracking and reports


Individual and department compliance dashboards
In all, small to medium-sized companies investing in a GRC or compliance management platform save about a year and a half of time managing their programs. Based on 10 years of historical data collected from our clients, we found the 35% average time savings in year one, and 85% each year thereafter.

Here's what moving from spreadsheets and disparate systems to a compliance tool looks like:
Less turnover by reducing workload stress and improved efficiency





Improved efficiencies allow more time to catch and respond to critical incidents and security risks





Reduction in long-term compliance costs and workload by crosswalking controls to multiple frameworks





Reduced redundancy gives more time to focus on other strategic or technical projects





Reduced costs on additional software by moving to one central platform





Improved working environment between compliance team and auditors
Here is an overview of time saved using a compliance management platform: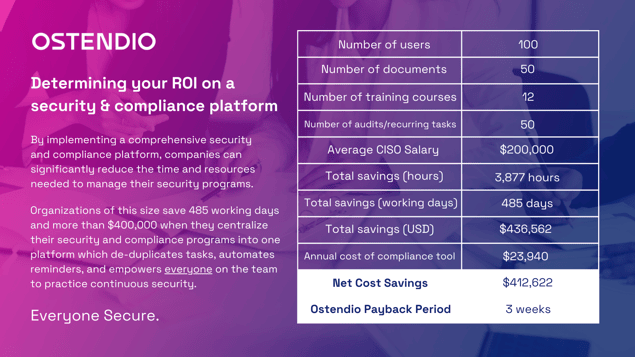 Contact us to see pricing unique to your compliance needs.
Below is a breakdown of each transaction in time saved. Each table calculates the time saved on an individual task.
Policies, Procedures, and Documents
Writing, maintaining, and tracking policy documents remain some of the most important compliance tasks. These are crucial pieces of evidence that your auditor will ask to see.
A compliance management platform takes the headaches out of version control, policy edits, and employee acknowledgment reminders by keeping all these tasks and notifications in one centralized location for everyone.
Based on the time savings of 1.5 minutes per task, organizations with 100 people save 2 months worth of time per year on managing compliance documents by maintaining all documents in a single platform.
With a security and compliance tool, a compliance team can easily and quickly find the latest version of a document and allow the platform to remind employees to acknowledge it by sending auto-notifications and displaying individual and department compliance status.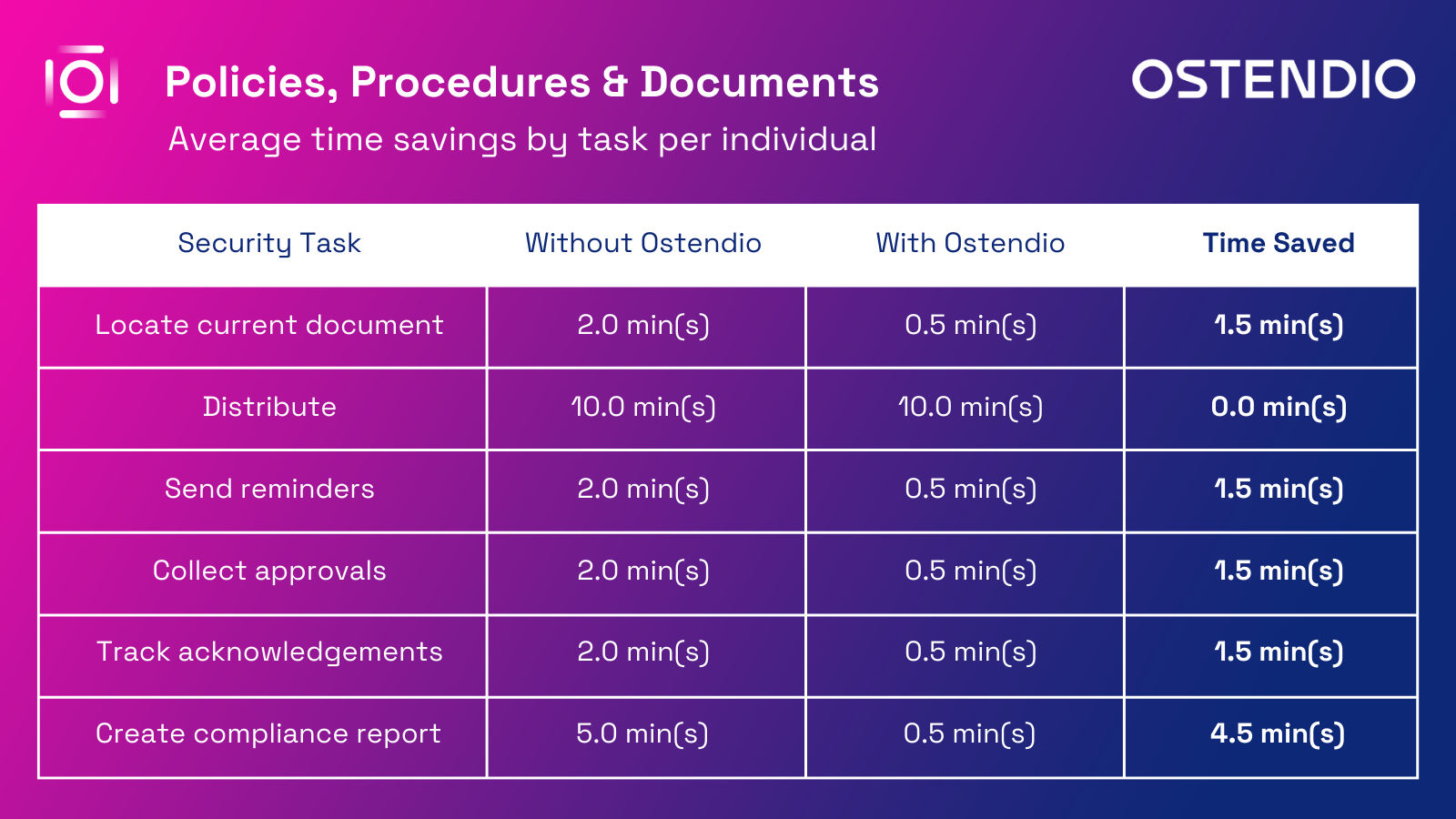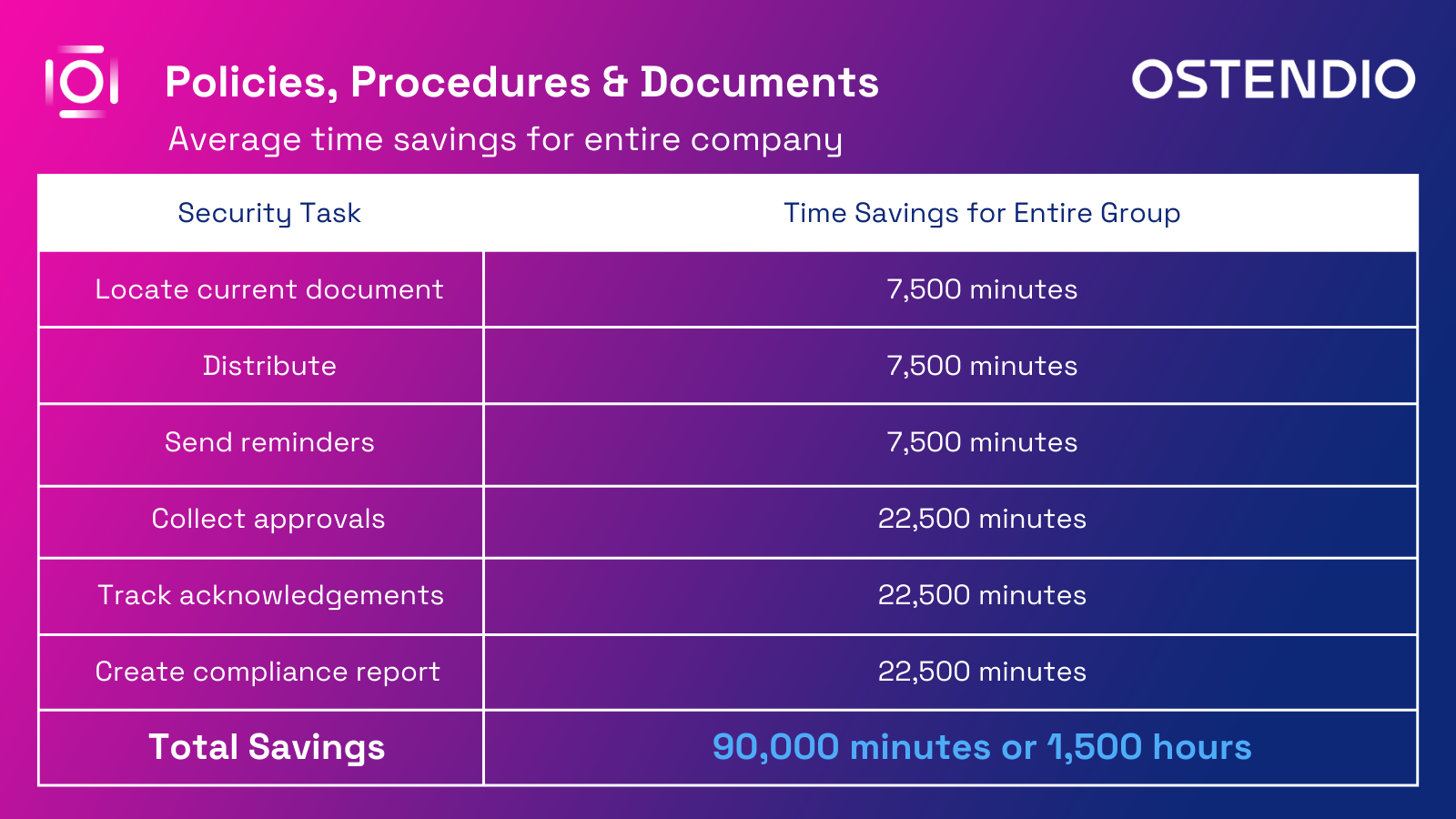 Employee Security Training
Most security frameworks require specific employee training. You might be exploring HIPAA, HITRUST, or SOC 2. Whatever framework you choose, chances are training is involved for your entire organization–not once, but on a regular basis. Quarterly. Annually.
Continuously reminding staff to take time out of their busy schedules to complete training also takes time out of your busy schedule.
By shaving off 30 seconds per training task, we've found that compliance teams save approximately 19 days when they enroll their employees in a compliance platform to manage and track security training. Rather than manually creating training or tracking down outdated versions and updating, teams are auto-notified to complete the latest training when they are due.
That's almost a month of time saved in creating training and tracking down employees to complete them. A month of time that can be spent on other strategic or technical projects.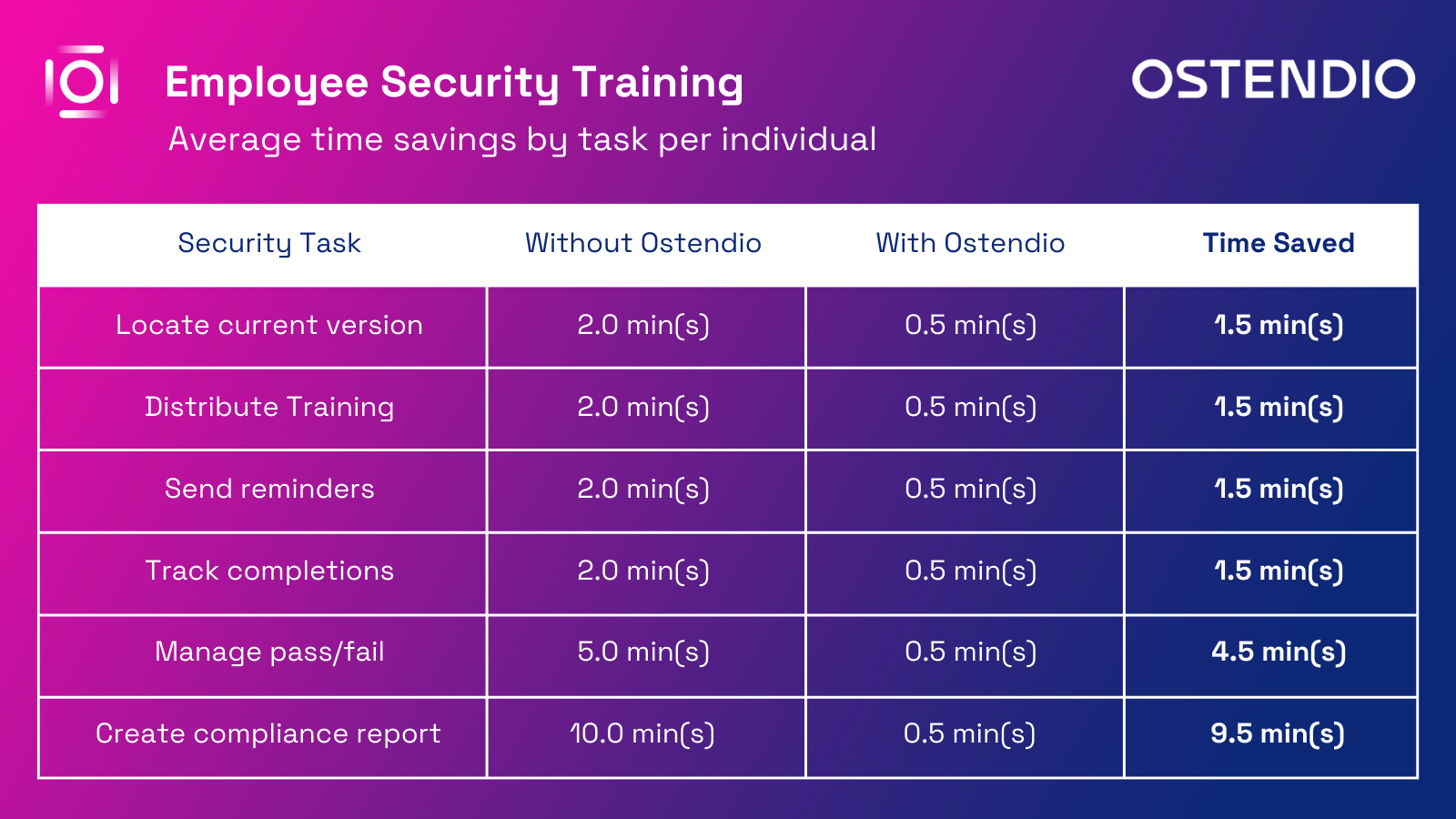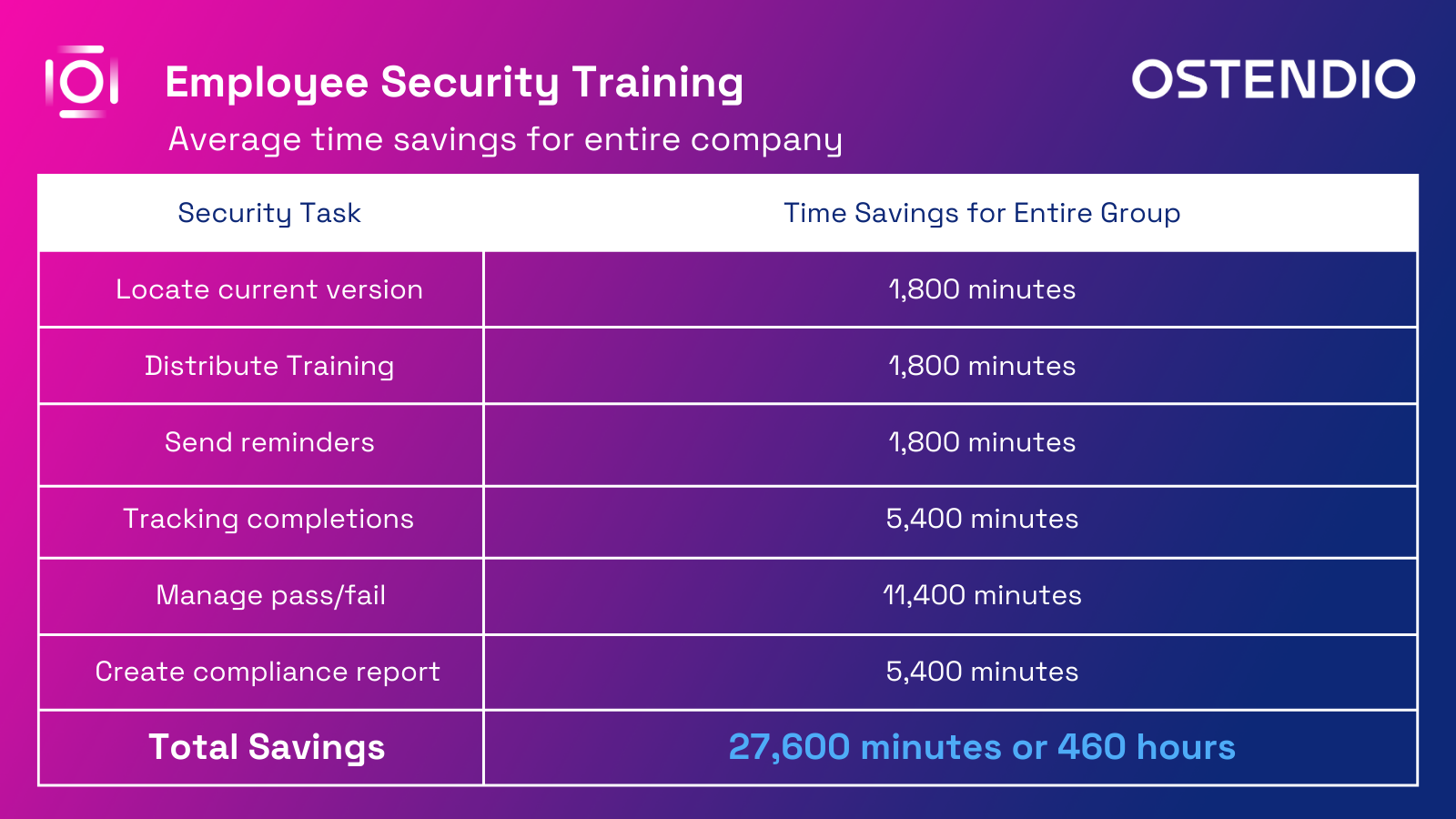 Recurring Security Tasks
When you're not managing documents or tracking down employees to complete their compliance activities… security tasks take up the most of your busy day.
Below are calculations for what it looks like when security tasks are moved from spreadsheets and email to a compliance management platform.
Based on our calculation, compliance teams save a total of 1,917 hours managing audit tasks by using a centralized compliance platform–that's 11 weeks of saved time by saving 30 seconds for nearly every recurring task and saving 5 minutes on creating new tasks. Compliance teams are able to set up recurring security tasks that include automatic notifications, reduce redundancies and streamline audit preparedness efforts. This gives the compliance team valuable time back to pursue revenue-generating projects, plus it makes the job of a CISO a whole lot easier (and less stressful).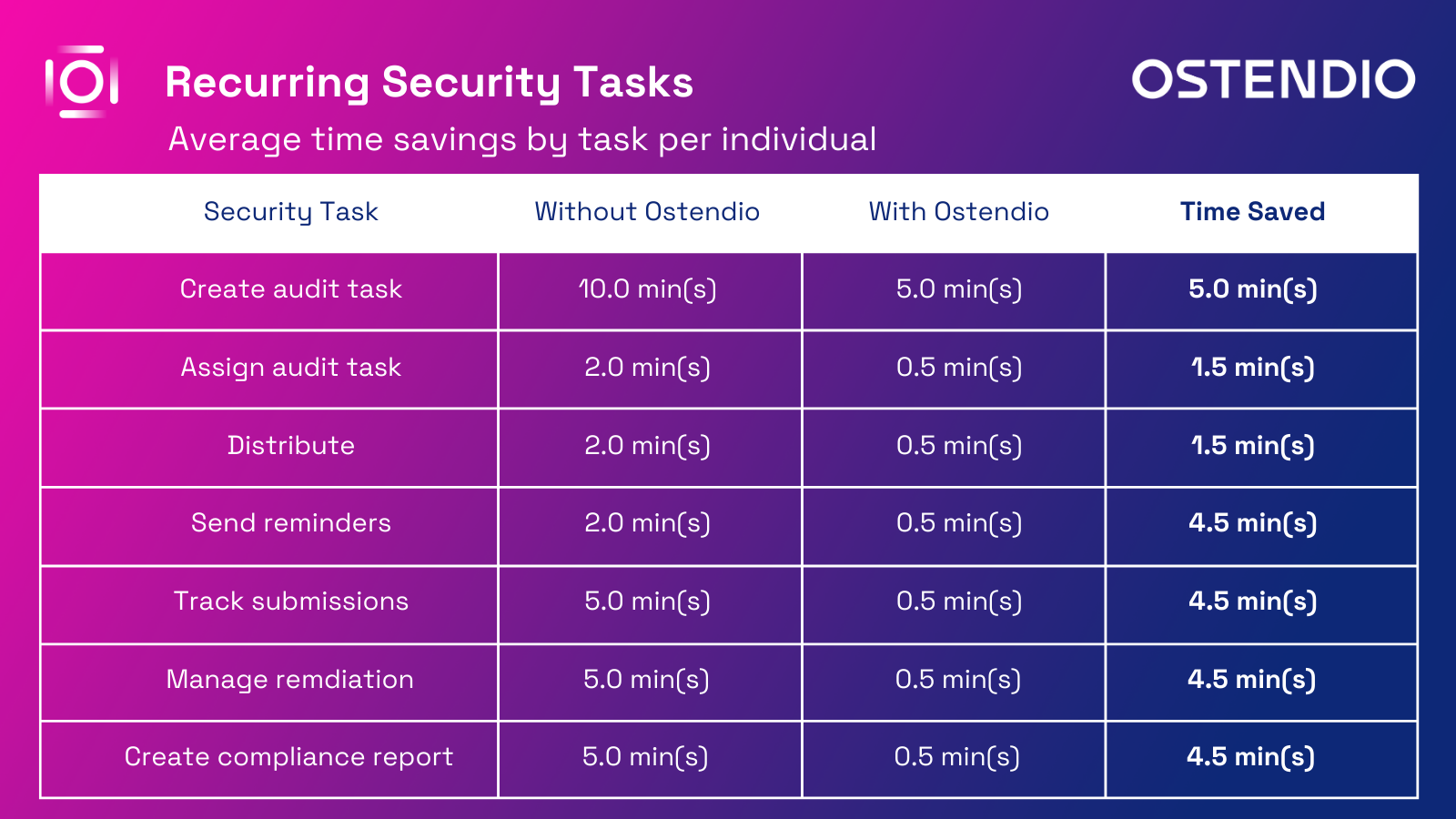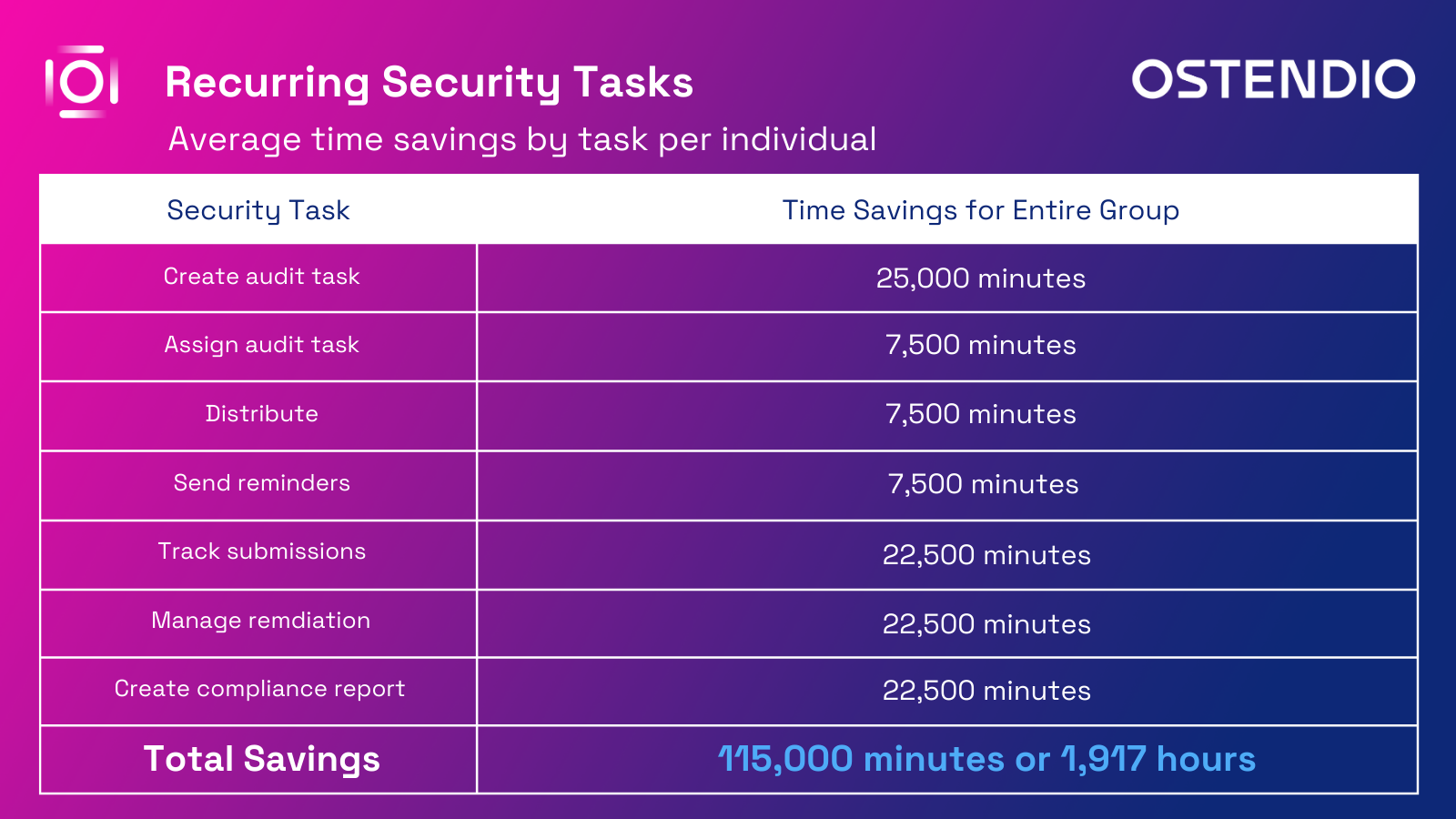 Don't get us wrong–security and compliance takes hard work and requires continuous upkeep–but the time savings compound exponentially over time. For that reason, an investment in a robust compliance and security platform can pay dividends to ensure your organization and your people are continuously secure while improving work efficiencies.
Get in touch with a security expert to talk through your security and compliance planning.
Tags: