Many larger companies, and some medium sized companies, have a focused CISO with a great IT team who have all worked hard to establish a data security and risk management program. Perhaps the CISO and IT team have spent hours collecting data, building spreadsheets and sharing evidence with auditors. They may have even gone through a gruelling audit process. But what if there was a better, more efficient way to do this? What if all your data security and risk management work could be easier to manage and in turn save your team and company time and money?
As a CISO who is doing a great job, it is always intriguing to find out that there is a way to improve your established processes. At Ostendio, we built the Ostendio MyVCM platform to make the process of data security and risk management easier for all organizations, even if you already have an existing program. We wanted to save CISOs, and their teams, from hours of avoidable paperwork. When security budgets are tight, we wanted to help CISOs save time and money by automating processes and freeing up staff to complete other important tasks.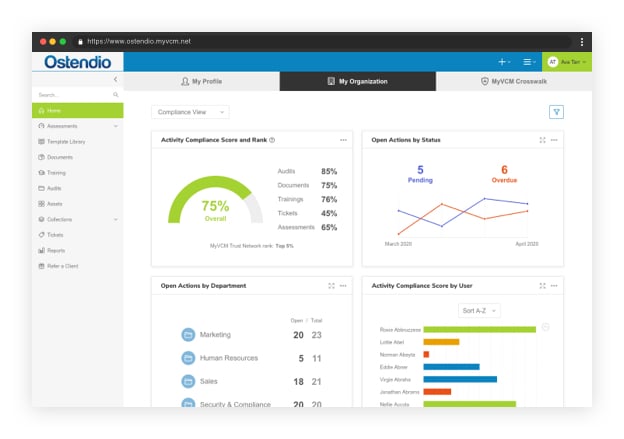 Image: View of the Ostendio MyVCM organizational level dashboard
[Read more: The Complete Guide to SOC 2 Compliance and Certification]
How do you optimize the security choices that you've made?
We understand that many CISOs have already invested time and money into their current programs, perhaps even using a traditional GRC (Governance, Risk & Compliance) program. However, using a single cloud-based platform, such as the Ostendio MyVCM platform, that allows you to automate all of that existing work and then see at a glance how effective and efficient your program runs in real-time will transform your security and risk management program.
Some cloud-based platforms don't cover all the bases and you might end up purchasing more than one platform to fill the gaps. As a busy CISO, you need a single platform that covers all elements of your data security and risk management program in one place for you to be able to simplify your tasks and optimize your investment.
Ostendio MyVCM can optimize your security program allowing you to:
Map security activities to one or more framework or compliance requirement
There are over 100 standards and regulations covered by the Ostendio MyVCM platform. These include the popular SOC2, HITRUST and FedRAMP. You can optimize your current security program by moving all your documents onto the Ostendio MyVCM platform where you can track them against your chosen standards.
Track document versions/approvals/acknowledgements
Don't waste time chasing people for approvals and acknowledgements of documents you have sent. The Ostendio MyVCM platform has a full document management function covering version control and approvals. It issues reminders and clearly shows who has given approvals or made updates.
Prepare for an audit to one or more standards or regulations
When all your documentation and evidence is stored in one place, it is catalogued, available real-time and accessible to employees internally and to external auditors, you will see how streamlined audit preparation can be.
Build a culture of security in your organization.
By using the Ostendio MyVCM platform you have access to security training for all employees. Training should not be a one-off. All employees must be trained regularly, inline with their responsibilities and level of data access per the security and compliance requirements being followed. A recent report said 59% of employees are not confident they could identify a social engineering attack - this clearly shows how critical regular training can be to protect your company. Security training is most successful when it becomes a part of your company culture and the responsibility of all employees.
Track and manage assets
Asset management has become more important with the growing number of remote workers. The Ostendio MyVCM asset module allows the busy CISO to understand what assets your company has and who has access to them. Assets can be logged, traceable and you can control who has access to different systems.
Schedule your daily, weekly and monthly tasks
Assign tasks to people within other teams or departments and easily track pass/completion/followup. This task management module frees you up from routine tasks and allows you to focus on more important tasks.
View Easy to Follow Dashboards
As the CISO you will have a clear view across all departments, geographies and teams. Using the Ostendio MyVCM platform you will be able to manage by exception rather than spending your time following up with each individual to ensure the work is done.
Extend your security reach to vendors
Now you've established your own security program it is time to extend it to your vendors. The Ostendio MyVCM Auditor Connect module offers a uniform vendor security program that scales, regardless of the number of vendors you might have. It offers customizable security questionnaires with evidence associated with the questionnaire stored and easily available to auditors. By including your vendors in your security program you are ensuring that anyone who has access to your data is handling it inline with established regulations and standards.
When you are optimizing your data security and risk management program Ostendio can help you make the most of your investment. We understand that budgets can be limited - see our transparent Pricing page for more information and ROI guide. We also understand that experienced cybersecurity professionals can be hard to find. Ostendio helps companies improve their cybersecurity programs when they engage our Professional Services team. This group of industry experts is ready to help customers implement their security programs or supplement existing compliance teams when preparing for an audit. We also help organizations get quickly set-up on the Ostendio MyVCM platform with our experienced Ostendio Customer Success team who provide individualized training and guidance.
Ask us more about how we have helped hundreds of customers with optimizing their security programs and completing complex audits.