[3 min read]

Our industry has evolved. With more than 80% of security breaches caused by human error, traditional GRC tools are no longer enough for today's modern, complex business environments.
Compliance "automation" only represents a fraction - estimated between 5% and 15% - of the requirements for a comprehensive security program.
In fact, too many organizations rely on claims of "compliance" without ever mentioning security. Automation rarely means compliance. And compliance doesn't equal security. In today's hybrid work environment, you can't afford to remove the "governance" and "risk" from "GRC" - simply because it's "easier".
[Watch this video with Ostendio CEO, Grant Elliott, and learn why you should be asking your platform provider if they are a HITRUST Readiness Licensee or and Authorized Partner with AICPA. Put your people-first with Ostendio.]
Leading CISOs, information security professionals, and auditors will be the first to warn that these so-called risk management platforms provide a false sense of security while leaving companies exposed to critical threats.
These platforms lure organizations with promises of ease and automation made by eager entrepreneurs with little to no security background. Unfortunately, it's often too late when these empty promises are exposed and companies realize they must switch platforms to mature and grow—or even worse, have suffered catastrophic security losses.
With so much at stake, we at Ostendio felt it was time to evolve our brand to better represent the best interests of our clients and partners:
To put people first when building your data security and risk management programs.
Our Ostendio name originated from the latin word "ostende" meaning to "show" or "demonstrate". The need to demonstrate security, not just compliance, requires the inclusion of every individual within your organization and extended ecosystem in building a culture of security to protect your company.
And so our tagline was born: "Everyone Secure."
We believe that when your people are protected, your business is secure. When you build a security program around your people, you can evolve to meet any security challenge.
Put People First. Built to secure your people, not just your systems
Offer Real World Security. Built to handle real security threats, not just your compliance
Future Proof Your Organization. Built to grow and change with you, not just for your initial needs.
Our mission is to advance a new era of security, fundamental to organizational growth that empowers people across companies to play an essential role in managing risk to multiply success.
We are committed to security built for you and your individual needs. Ostendio is not one size fits all. Instead, we support you with an intelligent platform designed to fit you flawlessly.
We recognize that compliance "automation" tools can be tempting, but we also know that there's much more to our work than our company. Security is fundamental to a better society, and we go beyond our business to make life better for people.
We aren't afraid to challenge convention with bold and diverse perspectives that drive new possibilities and unprecedented outcomes. When we bring the dynamism of our combined strength to achieve shared outcomes, we multiply our power and are able to achieve the impossible.
Our new brand identity puts people at the center of a dynamic security environment that is always on and always protecting.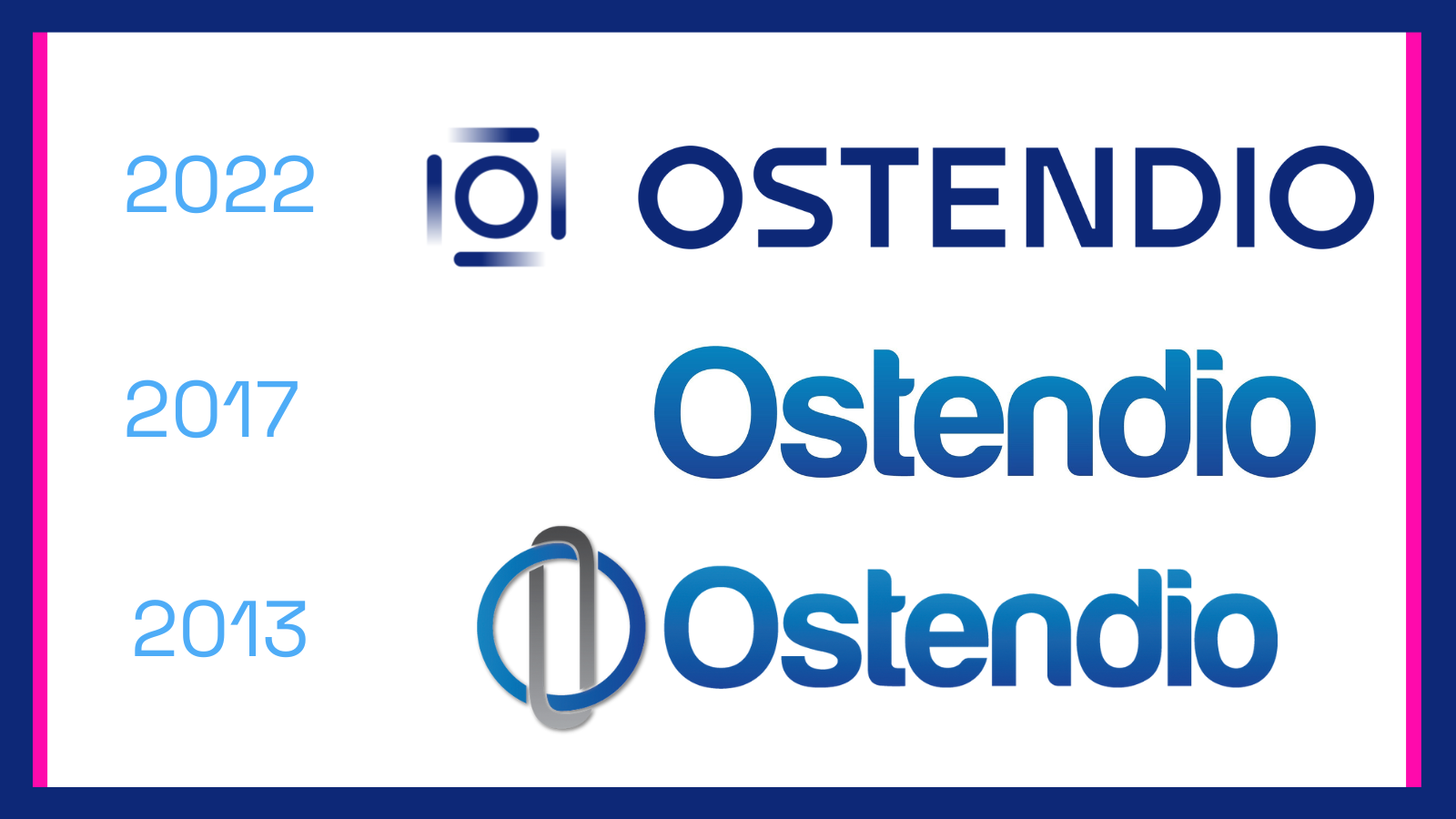 The Ostendio logo over the years
Special thanks to the team at Forth for enabling us to align our vision to our new brand identity.
You can experience our new identity on the pages of our website where you will find a clear description of the Ostendio platform alongside our new Knowledge Center to help you at each step of your data security planning journey.
Our look has changed. But our focus on you, our customer remains. With your people at the center of trust.