Building out a security and compliance program can be daunting, especially if you're working towards multiple frameworks.
For this reason, many organizations turn to GRC platforms to create and organize policies and procedures, manage and mitigate risk, compile evidence, and collaborate with an auditor to comply with multiple frameworks like SOC 2, HITRUST, NIST 800-171, and many more.
For those newer to cybersecurity, or implementing a new security program from scratch, you might have a few questions about GRC.
What does GRC stand for?
GRC stands for Governance, Risk, and Compliance. Organizations use GRC to manage and mitigate their risk, comply with regulations and security standards, and govern business operations.
What are GRC tools?
GRC tools are software systems organizations use to manage their governance, risk, and compliance. These tools allow businesses to organize their policies and procedures, train staff on compliance standards, manage risk, and respond promptly to threats.
How do I select a GRC tool?
There are a variety of GRC tools available to choose from. Every GRC tool is different, and it's best to do thorough research to determine the one that fits your needs. Ultimately, you want to invest in a tool that is secure, actively involves everyone, and meets your internal requirements.
If you're in the market for a GRC solution and you're not sure which solution aligns best with your organization, here are five essential steps to make the most informed decision.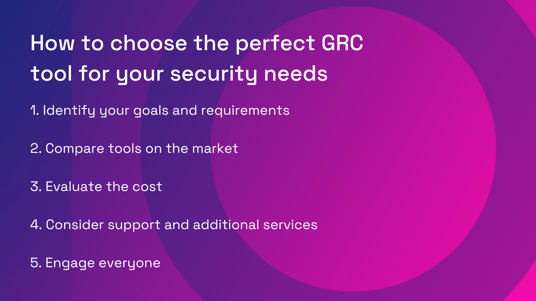 The 5-Step Process to Selecting a GRC Tool
1. Identify your goals and requirements
The first step in determining the right GRC solution for your business starts with your requirements.
No organization or security program is created equally. Some GRC solutions are better suited for startups looking to scale, while others might benefit from a solution that can support enterprise-level needs. Similarly, some GRC solutions are better equipped for specific industries, such as HITRUST for healthcare.
Additionally, as you identify your GRC requirements, you will need to consider your goals. For instance, you may be looking for a solution that allows you to scale. Or, you might have a strict timeline to complete an audit by the end of the year. Ask yourself if the solution helps you reach those goals and cater to you long-term.
As security program complexities continue to evolve, many organizations have found that a traditional GRC tool is not enough. Some CISOs believe that implementing a GRC tool is the right answer to managing risk, but there are some limitations. Traditionally, GRC tools are used by only a few people on staff and are often inflexible. Ideally, a security and compliance program should engage all your people to ensure you avoid threats and stay in compliance to avoid breaches and penalties.
According to Stanford Research, 88% of data breaches are a result of mistakes made by people. When you actively engage all your employees and eliminate department silos in your security program, you and your team are better equipped to handle threats and respond appropriately to incidents.
2. Compare tools on the market
One of the most important steps in determining a GRC solution: software evaluation.
You may spend weeks evaluating GRC tools on the market, but may not have the time to make a decision. What's important is not to settle for a solution to simply race against the clock. For example, if you need to complete a SOC 2 quickly or are concerned about the organizational adoption of a new platform, many solutions tout their offering's capacity to get you up and running quickly and help you work toward any upcoming attestations.
Also, consider other features such as guaranteed audit success, actionable integrations, and the ability to crosswalk between multiple frameworks as you scale your program. However, some solutions may promise a completed audit in only a matter of weeks.
Realistically, a good security audit takes time. While you can onboard rather quickly on any platform, even if your organization's security isn't mature, a couple of weeks for an audit turnaround is an unrealistic expectation.

There are many resources available to help you make an informed decision about the right GRC solution for your business. You can read G2 Reviews, talk with industry experts, or compare and contrast features with a GRC comparison tool.
3. Evaluate the cost
Cost is one of the most challenging aspects when it comes to choosing a GRC tool. Cheaper is rarely better, and more costly doesn't necessarily mean the highest quality. So, it's crucial to really take into consideration features and functionality, as well as your long-term security and compliance goals.
The biggest challenge when evaluating the cost of GRC solutions is ultimately getting the buy-in from executives. They will want to know the related platform personnel costs, the length of implementation, the platform learning curve, and the potential return on long-term investments.
If you're struggling to get executive buy-in or if your executive leadership team doesn't value the importance of your security program, read how to demonstrate the ROI of a security and compliance platform.
4. Consider support and additional services
Having a reliable support team with any new company-wide software adoption is key. Just as you'll want to evaluable platform features, you will also want to focus on the level of customer support e.
Consider the following:
Is there a dedicated implementation staff to help you get started?


Is support contracted for a limited period or ongoing throughout the relationship?


Is there an easily-accessible knowledge base with videos and articles?


What is the response rate of support staff?


Does the company take into account new feature requests and add them to the roadmap?
Finding a GRC tool with a team of security experts is also a plus. In the event you need help writing policies and procedures or need to meet specific compliance requirements within a deadline, having a dedicated professional services team readily available can be a lifesaver.
5. Engage everyone
Once you've selected a GRC tool, the final step is to get everyone on board. Think beyond your security and information team. Involve human resources, services, marketing, and finance. Everyone.
All of these departments handle data every day and work with third-party vendors. Here are just a few examples of how employees need to be trained to protect your organization:
Industry security and compliance requirements

How to respond to incidents and whom to report incidents to

Access control requirements

Vendor onboarding procedures

Your company's unique policies and procedures
It may seem like a daunting endeavor to get everyone onboarded to a GRC platform. As mentioned above, software adoption within the entire organization can take time to work into everyone's routine. With the help of an implementation schedule, you can efficiently transition your current security program and your people to a new platform.
Considering if a GRC solution is right for you
No two organizations are created equal. And no two GRC solutions are either. Choosing a GRC solution depends on many factors: your organization's maturity, size, budget, and goals.
If you're currently in the market for a solution to support your organization's GRC, chat with an expert today.