The Washington DC fourth Annual Timmy Awards, officially named Ostendio as 2018's Best Tech Workplace for Diversity winner. Factoring in community voting and deliberation by a panel of expert judges, Ostendio joins the ranks of past innovators like SAP and Jellyvision to claim a Timmy Award, which recognizes the top places for tech professionals to work. Ostendio was recognized during Tech in Motion's Timmy Awards ceremony in front of 200 tech enthusiasts, executives and entrepreneurs.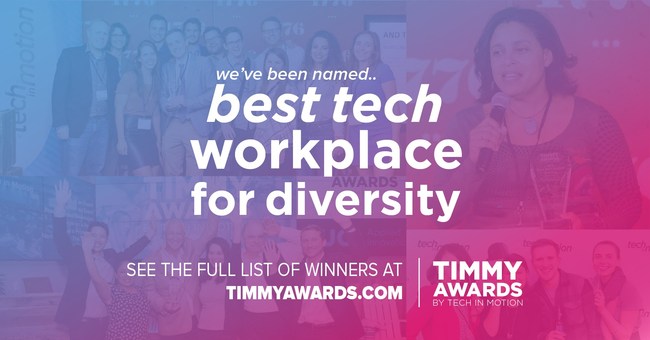 "Companies are realizing diversity is a necessary ingredient for creativity and success, and Tech in Motion DC is thrilled to celebrate Ostendio as our winner for the Best Tech Workplace for Diversity award," said Mandy Walker, Director of Marketing at Tech in Motion and Motion Recruitment Partners. "Ostendio continues to provide the tools and resources necessary for diverse thinking and collaboration among its teams, recognizing the value of an inclusive environment."
Ostendio has three founders - each founder an immigrant, a veteran, a minority (or both!), so diversity has always been important to the company right from the get-go. Ostendio believes that what makes people different allows us to thrive, which is why we place such a big emphasis on building an inclusive environment.
"At Ostendio, we focus on attracting candidates with a diverse skillset. We want to foster collaboration between teams. We have an open floor plan, combined with an open-door policy to encourage employees, no matter their role, to provide feedback and affect change within the organization. It's a great honor to be recognized by Tech in Motion. We are excited to keep building a diverse tech team and workplace," said Niamh Bennett, Director of Marketing.
Including DC, Timmy Awards ceremonies take place across 10 North American tech hubs this month, celebrating the best in tech employers. A list of 2018 winners and finalists is available here as revealed in each city.
Read the official press release here.
Tags: