Ostendio announced that Welldoc, a leading health provider of revolutionary chronic care, has won the company's sixth annual MyVCM Trust Network Award. The MyVCM Trust Network Awards recognize companies that demonstrate excellence in continually managing information security, risk, and compliance. Welldoc consistently ranked in the top three companies on the Ostendio MyVCM platform for overall compliance activity in 2021.

"MyVCM allows Welldoc to maintain our regulatory compliance, including both document control and training, with ease and confidence. We are able to run as fast as we need to as a company and remain agile, all while knowing we are backed with a quality management system that we can trust," said Ian Cadieux, Head of Regulatory Affairs, Welldoc.
By using the MyVCM platform, Welldoc has received frequent praise from auditors for having a well-controlled Quality Management System and remaining current on training and documentation. As their team and products expand, Welldoc continues to place a strong emphasis on the Document Management and Training Modules and credits these features as key drivers to their compliance success.
"We congratulate the team at Welldoc for the commitment that is required to win this annual award," said Grant Elliott, CEO and chairman, Ostendio. "As an early MyVCM customer I appreciate our long-standing partnership with Welldoc."
Companies of all sizes benefit from the Ostendio MyVCM platform, which offers advanced features that improve security audit efficiency and reduce up to 50 percent of the time and cost needed for customers and their auditors to complete a security audit. The Ostendio MyVCM platform handles over 100,000 user activities each month including document management, security training, asset management, and vendor management.
New in 2022, Ostendio is adding quarterly MyVCM Trust Network Awards to celebrate one MyVCM Select customer and one MyVCM Premium customer who has shown an outstanding commitment to compliance and data security. Ostendio will continue to award an annual MyVCM Trust Network winner.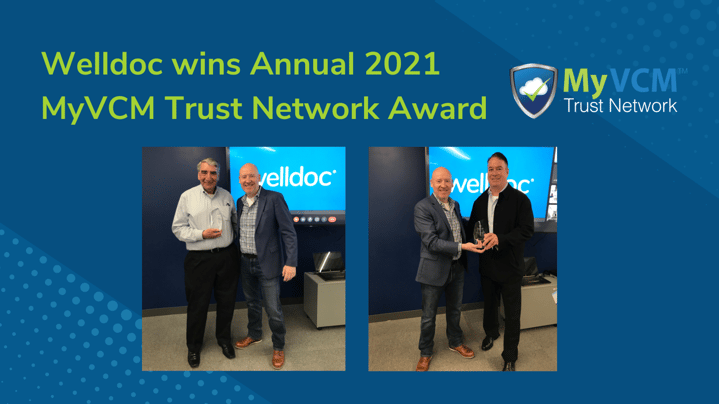 Left Image: Larry Ludendsky, Quality Systems Management and Implementation, Welldoc
Right Image: Kevin McRaith, President, Chief Executive Officer, Welldoc
Both images: presenting the award - Grant Elliott, chairman and CEO, Ostendio