To our customers,
As organizations rapidly transition their businesses to support remote working they are increasingly relying on third party vendors to support them. To help our customers during this time of transition we have made available a free third party risk management assessment template on your instance of MyVCM.
Understanding the security of your remote workforce and the vendors in your supply chain has never been more important. As we rush through these changes, risk lies in wait from bad actors looking to exploit vendors who are unprepared for the changing demands being placed upon them. Even billion dollar organizations like Zoom, who is experiencing an unprecedented boom in business, has been in the news lately as it struggles to maintain the privacy and security of users.
Use this free template in MyVCM to manage your third party risk. Simply go to Assessments > Create New Assessment > Vendor Assessment > Industry Templates and select COVID-19 Third Party Risk Assessment. This will create a draft assessment you can modify and send to your vendors or any partners that may have access to your sensitive data.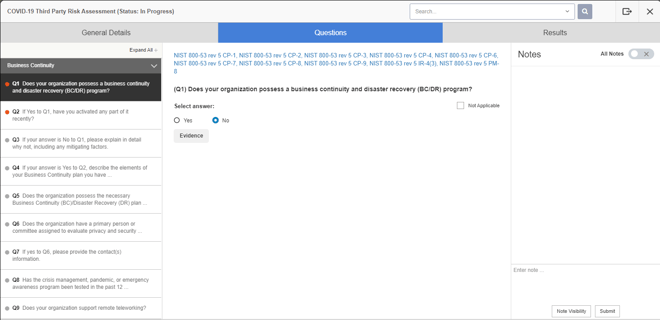 COVID-19 Third Party Risk Assessment Template
This template is free and is available to all MyVCM customers. If you would like help understanding when or how to use it, or you would like assistance implementing it please feel free to reach out to our Customer Success team at customersuccess@ostendio.com. We can also help customers with their Business Continuity planning as we learn from this current situation and plan for the future.
At Ostendio we are ready to help you however we can during this time of transition and moving forward.
Grant Elliott