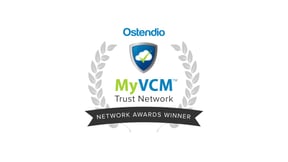 Ostendio, a leading integrated risk management platform provider, has announced that emocha Health is the winner of the company's fifth annual MyVCM Trust Network Award. emocha provides Digital Medication Adherence Programs through asynchronous video check-ins and scalable human engagement to help patients radically improve medication adherence. Throughout 2020, emocha has consistently ranked in the top 5 companies on the Ostendio MyVCM platform, which automates security program lifecycles.
Companies of all sizes benefit from the Ostendio MyVCM platform, which offers advanced features that improve security audit efficiency and save auditors and customers up to 50 percent of the time and cost needed to complete a security audit. The MyVCM Trust Network Awards highlight companies that demonstrate excellence in continually managing information security, risk, and compliance. Each month, Ostendio reports the top three companies based on their overall compliance activity on the Ostendio MyVCM platform. The company with the highest average ranking throughout the year is announced as the year's winner.
"emocha chose the Ostendio MyVCM platform to ensure we run an organized security program that satisfies every security certification to which we are held accountable. We are honored that our commitment to information security is recognized with this award," says Sebastian Seiguer, CEO, emocha Health. "Because we use Ostendio MyVCM, customers can be confident that we handle their personal information securely and in accordance with all relevant regulations. The Ostendio MyVCM platform has become indispensable to the operation of our data security program."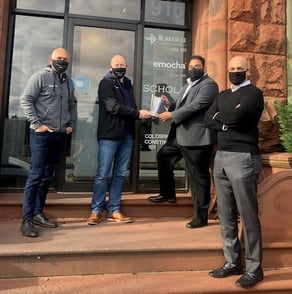 (Left-Right) Marc Bandini, Ostendio President and COO and Grant Elliott, Ostendio CEO and chairman, present the award to Ramon Castro, emocha CTO and Sebastian Seiguer, emocha CEO, outside the emocha Baltimore, MD offices.
emocha's full-service Digital Medication Adherence Program is backed by technology using a CDC-endorsed method called Directly Observed Therapy. The technology was initially conceived at Johns Hopkins to solve medication adherence and linkage to care in the most remote parts of the world. emocha now supports and enhances its technology with an engaging, human-powered program to support the gold standard of improving medication adherence. In doing so, emocha has helped transform the delivery of care: driving adherence upwards of 96%. Since 2015, a version of emocha has additionally been used for monitoring public health outbreaks, including Ebola and COVID-19.
"We have witnessed the dedication of the emocha Health team over the last year and their consistent use of the Ostendio MyVCM platform shows they are committed to thinking differently about protecting sensitive data and managing risk," said Grant Elliott, CEO and chairman, Ostendio. "At Ostendio, we believe that the point of a security program is not merely to satisfy a framework when a company is audited, but to create a culture of data responsibility that is always ready to demonstrate. Our platform makes it routine for companies to automate their programs so audit, or not, the data the company handles is secure and verifiable - with a click."

Read the full press release here.