Denver Based Information Security Company ILLUMEN to Provide Cloud Based Compliance Management Platform to Help Small to Medium Businesses with Privacy and Security Compliance
Denver, CO (PRWEB) June 12, 2014

Having a strong security posture starts with the creation, management and communication of sound information security policies and procedures

ILLUMEN announced today its plans to partner with Ostendio, Inc. to distribute MyVCM™, Ostendio's SaaS based compliance management platform. The ILLUMEN Group which, offers a range of IT security services to hospitals, clinics, health plans, and healthcare technology companies and retail businesses processing high volumes of credit card Information, will bundle the MyVCM solution on top of its existing portfolio of services.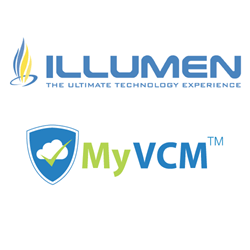 With more and more companies moving their data to the cloud, coupled with the proliferation of mobile devices that both store and have access to sensitive data, the challenge of protecting this information has never been greater. Increased regulations in areas such as healthcare, finance, utilities, and government contracting, coupled with high profile security breaches such as Target and Bradley Manning mean that companies need to work harder to both implement and demonstrate effective security compliance.
"Having a strong security posture starts with the creation, management and communication of sound information security policies and procedures," said Mike Jenner CEO of ILLUMEN. "Having used MyVCM within ILLUMEN we have seen firsthand the value it provides. Since we already knew that all the technology in the world cannot protect a company against lax practices it seemed only natural to add MyVCM to the portfolio of IT Security Solutions we offer to our customers."
MyVCM is a SaaS based solution that helps companies conduct a high level risk assessment; create, store and distribute policies and procedures; provide compliance training and assessment; enforce regular compliance workflows; and showcase compliance at an individual, departmental and organizational level.
"By partnering with a leading information security solutions provider like ILLUMEN we can give our customers access to the additional tools and services they will need to execute many of the policies and procedures our platform helps them implement," says Grant Elliott, CEO of Ostendio. "This alignment of administrative and technical compliance provides our customers with a complete compliance solution, allowing them to develop a stronger security posture and better demonstrate regulatory compliance where required."
For more information about MyVCM™ or any of ILLUMEN's other solutions please contact:
ILLUMEN: info@illumen.com.
Ostendio: info@ostendio.com.
About ILLUMEN
ILLUMEN is committed to providing the Ultimate Technology Experience to Front Range businesses through service, innovation and value. ILLUMEN's mission of excellence has been recognized and praised by the Denver Boulder BBB for business ethics and marketplace trust.
About Ostendio
Ostendio delivers affordable compliance solutions to small and medium businesses. Ostendio's MyVirtualComplianceManager™ (MyVCM™) is a cloud based compliance management platform that delivers an easy to use, cost-effective way to improve their Information Security posture.
MyVCM™ allows businesses to: assess risk; create and manage critical policies and procedures; educate and assess employees on their security awareness; and monitor continuous compliance against industry regulations
UPDATE: NexusTek, a leading Denver-based managed IT services and business software consulting services firm, announced Sept 9,2015 that they have acquired the assets of Illumen. The former CEO of Illumen, J. Michael Jenner, will move into the role of CEO at NexusTek.
Tags: