"I'm an operations guy," Grant Elliott, Founder, and CEO of Ostendio, which specializes in I.T. compliance and security, said in a conference room at ÜberOffices in Rosslyn last week. "I laid out a plan and we've [grown] to that plan. Only when I started talking to people did they say how fast we were [growing]. I laid out what I thought was a conservative plan, but it turns out people think it was very aggressive."
Elliott founded Ostendio last September after working for eight years and the chief operations officer for a health information technology company called Voxiva. It took six months for Elliott, co-founder Jermaine Jones and a third co-founder who chose to remain anonymous to build the platform, My Virtual Compliance Manager (MyVCM), that helps bring small- to medium-sized business into federal safety compliance with their data.
In the three months since the product launch, Ostendio has brought on more than a dozen clients.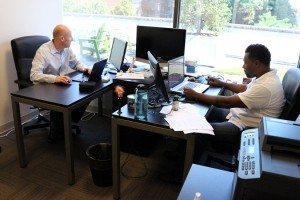 "They see compliance with federal regulation as a huge task, which is partly true," he said. "Small companies, unfortunately, have the same regulations as a larger company. Our platform actively manages compliance for our customers. We also provide training and audit functionality."
Last week, Ostendio was one of 20 companies to present to potential investors at TechBuzz, a semi-regular tech event for D.C.-area companies. Elliott had to present a four-minute pitch to investors, which he said was nerve-racking since I.T. compliance isn't as "sexy" as a new social media platform.
Perhaps because Elliott's company isn't operating in one of the attention-grabbing tech startup sectors, and that this is his first-time as a CEO, fundraising has been frustrating, even though it has borne some fruit early on.
The business model, Elliott says, is the reason that Ostendio has already agreed to invest with Virginia's Center for Innovative Technology and from D.C.'s 1776, which also counts Ostendio as a member. Ostendio has been bootstrapped thus far but is seeking $500,000 from its first round of funding.
Ostendio targets companies with between five and 100 employees in "a regulated market" like healthcare, Elliott said. In healthcare, where most of Ostendio's clients operate, "HIPAA [Health Insurance Portability and Accountability Act] regulations are a dark cloud hanging over" small businesses.
Because of the boom in cloud computing and mobile devices, Elliott said, more and more small tech companies can innovate in a space like healthcare, but large medical providers like hospitals and insurance companies need to ensure that any technology that is brought on is compliant with HIPAA regulations and the patients' data will remain secure.
Elliott said that his goal isn't just to build a company that makes a profit and improves the marketplace; he wants Ostendio to be "a thought leader" in health technology. That's why he co-founded Healthcare Cloud Coalition (HC3), which he said will be a group of companies in healthcare and technology "coming together to leverage the cloud for the benefit of everyone."
"By being a thought leader in the space," Elliott said, "we hope it gives us a platform to talk to these companies like Microsoft, Oracle or Medstar Health, who have already signed up for HC3."
Elliott said he's passionate about all the companies who have signed on as clients, and he feels eventually Ostendio can make a difference in opening the healthcare marketplace to more business and, eventually, better service for patients.
"I wanted to feel proud about the products we took to markets," he said. "We work with some fantastic companies doing some amazing things, and we are helping them achieve what they want to achieve. We see it as enablement stories."
This article first appeared in ARLNow on June 23, 2014. To read the original article click here.
Editor's Note: Sponsored by Monday Properties and written by ARLnow.com, Startup Monday is a weekly column that profiles Arlington-based startups and their founders. The Ground Floor, Monday's office space for young companies in Rosslyn, is now open. The Metro-accessible space features a 5,000-square-foot common area that includes a kitchen, lounge area, collaborative meeting spaces, and a stage for formal presentations.
Tags: