This article was written by Michael Stiefvater, Business Development Manager for Arlington Economic Development.
With hundreds of innovative companies and a 100,000-plus strong workforce, it is of little surprise that Startup Genome gave the Washington D.C. region a top-three global ranking for its cybersecurity ecosystem.
Arlington is a significant contributor to this ecosystem with more than 30,000 cybersecurity jobs between the federal workforce and private companies. While the Department of Defense and the Defense Advanced Research Projects Agency account for a substantial share of those positions, the County is also home to more than 200 companies that are developing innovative solutions to cyber vulnerabilities, one of the largest issues facing the modern world.
To honor the impressive contributions from several of these entrepreneurs to the area's cyber community, regional media group DCA Live kicked off its 2020 event schedule with a Red Hot Cyber celebration at Ballston's Marymount University campus on January 29. Arlington was well represented at the event, with the following companies receiving awards:
DeepSig (Rosslyn)
DeepSig is a venture-backed startup pioneering the application of deep learning to reinvent wireless communications. The company's software replaces core wireless technology with deep learning, which results in communication systems that are faster, more cost efficient and secure, and able to excel in complex environments. DeepSig landed $1.5 million in seed funding in 2018 and currently employs nearly 20 people.
HyperQube (Ballston)
HyperQube enables companies to quickly and easily build an exact copy of any infrastructure or network to determine how the connected environment responds to changes caused by software updates, new technologies and unplanned events such as outages or cyberattacks. Founded in 2018, the company is set for significant growth in the new year as it expects to add customers and close on a new round of funding, which will translate into the hiring of up to 20 new employees.
Ostendio (Rosslyn)
Ostendio's leading product, MyVCM, is an Integrated Risk Management Platform for small and midsize organizations who need to demonstrate compliance to security standards. The platform's unique bottom-up security approach allows organizations to easily report their security posture to internal and external stakeholders. The company moved to a larger office in Rosslyn last July to accommodate its growing team of nearly 25 employees.
ThreatConnect (Ballston)
ThreatConnect provides industry-leading advanced threat intelligence software and services to effectively aggregate, analyze and act to counter sophisticated cyberattacks. In 2019 the company's impressive revenue growth earned it a spot on the prestigious Inc. 5000 list of the fastest-growing companies in the U.S. ThreatConnect was also recognized as one of the Best Places to Work in Virginia.
SCYTHE (Crystal City)
SCYTHE is a developer of an information security platform designed to prevent breaches and attacks from various cyber threats by providing continuous simulations that give organizations real-time understanding of where their defenses stack up to current and future threats to the enterprise. SCYTHE landed $3 million in initial financing in 2018 and currently employs more than 20 people.
Shift5 (Rosslyn)
Shift5 develops hardware and software systems intended to defend weapon systems, air platforms and commercial transportation systems. The company's cybersecurity solutions and features include intrusion detection and prevention against hacks on internal data bus networks. Founded by three former U.S. Army officers, Shift5 raised $2.5 million in venture funding in 2019 and employs nearly 15 people.
Congratulations to all the honorees, who are excellent representatives of Arlington's thriving cybersecurity industry!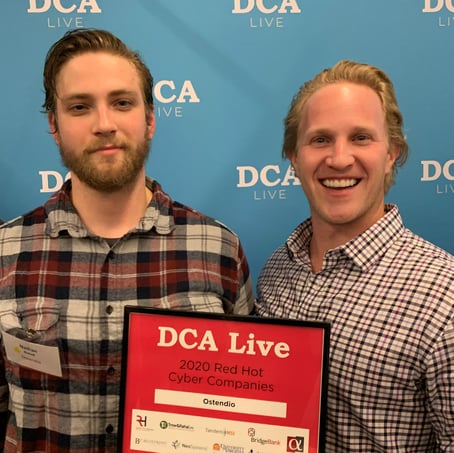 Pictured: Ostendio's Nathan Rishell and Scott Phillips accepted the DCA Live Award.
Tags: