[3 min read]
Winning awards is exciting, but it means so much more when it comes from our clients. We are starting 2023 with four G2 Winter Report badges recognizing the work of the fantastic Ostendio team including High Performer badges in three categories.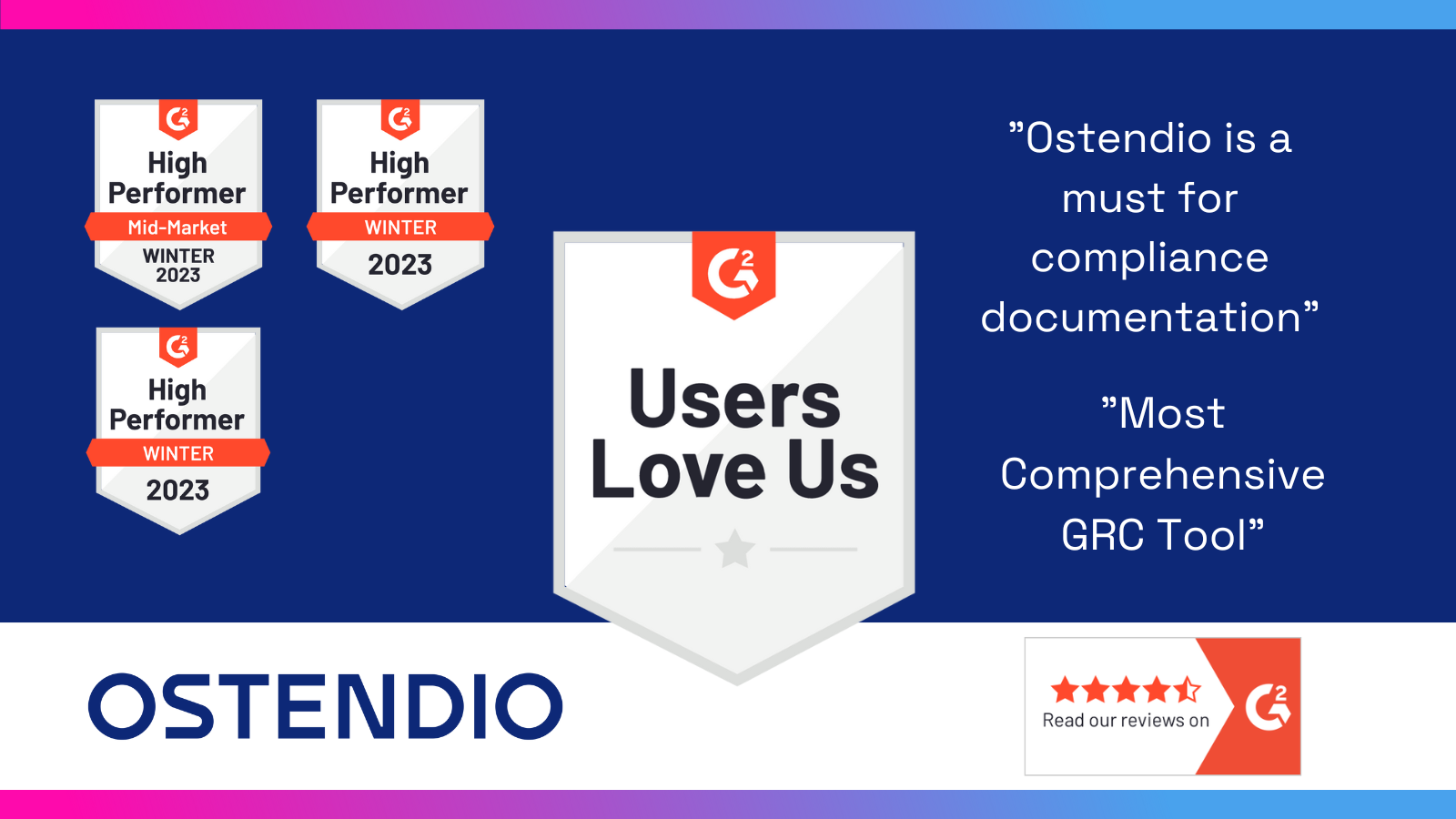 Ostendio was recognized in the following categories:
High Performer in Mid-Market Audit Management

High Performer in Audit Management

High Performer in GRC Platforms

Users Love Us
Products in the High Performer quadrant Audit Management Grid® Report have high customer satisfaction scores and low market presence scores compared to the rest of the category. The Users Love Us badge is awarded based on the number of reviews received rated over 4 stars. Ostendio's current overall star rating is 4.7 out of 5 stars.
Ostendio is built
by
serious security professionals
for
serious security professionals
Ostendio is the only security platform perfected for more than a decade by security industry leaders and visionaries. We know the daily challenges businesses face, from increasing external threats to complex organizational issues. Ostendio is designed to give you the power of smart security and compliance that grows with you and around you, allowing you to demonstrate trust with customers and excellence with auditors.
The reviews on G2 show the success companies are having using Ostendio for their data security and risk management programs. Our support team is on the journey with our clients ensuring everyone on your team is involved in meeting your data security goals. Learn more about how Ostendio can help your business by setting up a time to speak to one of our experts.
Here's what users are saying about us on G2:
"Ostendio is a must for compliance documentation"
"Amazing platform to track our compliance training."
"Detail-oriented, well-operationalized HIPAA solution that allows me to sleep well at night"
"Very user-friendly and delightful"
"Everything you could want from a partner and GRC platform"
"Ostendio's MyVCM helps make preparing for security audits much easier"
"Multi-faceted Compliance Information Assurance Tool"
Read all our client reviews on G2.
About G2
G2 is the largest and most trusted software marketplace. More than 80 million people annually—including employees at all Fortune 500 companies—use G2 to make smarter software decisions based on authentic peer reviews.