[4 min read]
I had not heard the term "Mission Corp" until earlier this year. It came up when I was interviewing someone for a role at Ostendio and, as I described to them how we operate, they suggested we sounded like a Mission Corporation. I quickly Googled the book and saw the similarity. The book, "The Mission Corporation - How contemporary capitalism can change the world one business at a time" by Michael Carter and Michael Moe, immediately resonated with me and provided a simpler way to articulate what we were striving for at Ostendio - to build an organization with purpose.
When I founded Ostendio in 2013, I knew I wanted to make it different from the past organizations I had been involved with. There are many reasons why people become entrepreneurs and, while not the only one, being able to build a positive work culture was an important reason for me. I have worked for some great organizations and great leaders, but over a 25-year career, I have also experienced my fair share of the opposite and I would often be frustrated by an inability to fix that. To me, the Mission Corporation philosophy provided a structure for what we all know to be the right way of working together, and the seven declarations provided a simple framework for executing this.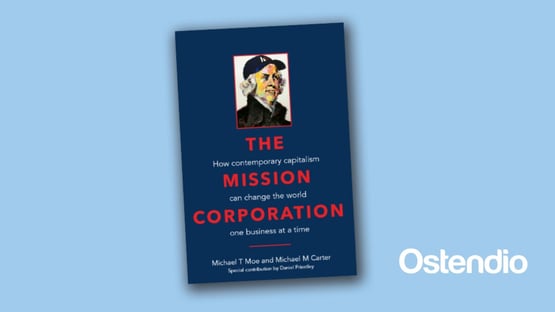 The Seven Declarations of a Mission Corporation
The company will have a stated mission and will commit to utilizing its business platform to impact society or its chosen market in a positive way.
The company will establish an equity or option grant plan whereby every full-time team member will have some form of equity compensation or stock to tie them to the success of the company and its mission.
The company promises to dedicate at least 3% of employee time to social/charitable causes, 2% of net income (or in the absence of net income 1% of revenue), and 1% of equity to support at least 1 of the 17

United Nations Sustainable Development Goals

.
The company commits to establishing a merit-based performance culture and establishes core values the team will be measured against for compensation, recognition, and advancement.
The company will commit that the CEO's base salary will not be more than 20X the base salary of its lowest-paid full-time employee, and it will strive to create a diverse executive team that is blind to race, gender, and ethnicity.
The company has structured a board of directors with at least one outside director beyond the founders of the business and commits to diversity and inclusion.
The company will commit to investing in human capital and continuing education for all team members to improve their skills, as well as to help them develop as professionals and citizens to leave a positive impact on society.
Ostendio was already doing much of this, but by becoming a Mission Corporation organization we are now able to articulate this within a more commonly understood framework. I was delighted when this transition was immediately supported by our board of directors and shareholders, who similarly recognized its value.
Where the idea of a Mission Corporation began for Ostendio
Growing up on the west coast of Scotland shaped my personal value system. My parents, both blue-collar entrepreneurs, were never comfortable financially but they were hard workers. Despite their economic struggles, my mother, who suffered from Lupus, still found time to be a founder and organizer of a self-help charity to promote awareness for the auto-immune disorder. She had such an impact on clinical research and helped so many fellow sufferers and medical professionals that she was nominated for Scotswoman of the Year by a national newspaper and met with the Queen and Prince Philip to receive her award.
This profound example of selfless purpose has always stayed with me and has led me to question organizations where the sole intention seemed to be profit or progress ahead of human values. While operating a start-up does require taking risks, this does not offer the owner entrepreneur a permission slip to ignore the consequences of their actions. What resonated most with me about the Mission Corporation philosophy is the way it bridges the gap between the seemingly conflicting notions of capitalism and service. The book makes clear these do not need to be mutually exclusive, and that if you can align your organization's purpose to have a positive impact on the world, you can be successful with both. At Ostendio our purpose is to reduce risk by improving security for all. If we are successful in doing this, we can achieve a positive return for our shareholders and contribute positively to society as a whole.
Ostendio is already a member of Pledge 1%
For many years Ostendio has been a member of Pledge 1%, and as a part of this commitment, we support many organizations local to our office in Washington DC, including Food For Others and Mattie Miracle Cancer Foundation. We also provide the Ostendio MyVCM platform at no cost to the Arlington Free Clinic and La Clínica del Pueblo in Washington DC. Together we have enjoyed volunteering at the Food For Others warehouse and participating in the 5k walks organized by both Food for Others and Mattie Miracle Cancer Foundation. We look forward to continuing this commitment to our communities as we grow as an organization.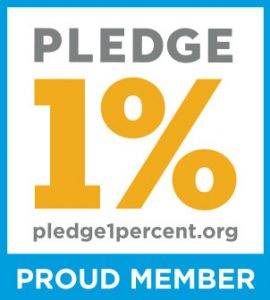 Building a company with a purpose
Of course, being a Mission Corporation is about more than just giving to charitable organizations. We want to make Ostendio a place where talented people want to come to work and enjoy what they do. It is important they feel their work has an impact. To support that goal we are committing to a training budget of $1,000 per employee annually so our team can continue to grow and learn. As a direct result of becoming a Mission Corps company, Ostendio has also increased the paid time off for volunteering from 2 days to 6 days a year for every employee. As we build our organization, Ostendio believes that diverse backgrounds and experiences make us stronger, and we encourage people of all backgrounds to apply for open positions. We are proud to have been recognized for some of these efforts including being named "Best Tech Workplace for Diversity" winner by Tech in Motion in 2018 and being listed as one of DCs "Best Places to Work" by Washington Business Journal in 2020.
Ostendio has a voice
Building a positive work culture is not just about awards, beer kegs, and team happy hours. Sometimes difficult decisions have to be made and opinions expressed. We want to build a company culture of trust, equality, and diversity in our organization. One that employees are proud to be associated with. It is for this reason, my co-founders and I were proud to express our vocal support for social justice in the wake of the George Floyd protests. If a corporate culture is the aggregation of every employee's values and beliefs, it is important these beliefs are expressed in a positive and constructive manner.
There are many things that contribute to building a great company. Hiring the right people and nurturing them are both high on that list. We believe that by operating as a Mission Corporation, Ostendio will continue to be a great place for our employees to work, will allow us to deliver the best possible products and services to our customers - all while serving a purpose larger than ourselves. We hope more companies will join us and become Mission Corporations.