It's almost time for one of the biggest events of the year on the healthcare information technology conference calendar - HIMSS 2023. This year HIMSS takes place in Chicago from April 17-21, and with over 40,000 attendees, you want to plan to make the best use of your time.
As a busy CISO, you have to make the most of your time at such a large event.
Let's look at our top 4 tips for ISO Professionals for a successful conference.
1. Study the speaker program ahead of time
The agenda is packed with informative speeches, panel discussions, training events, and lots more. Make sure you schedule the time to attend the speeches that are most relevant to you. A conference like HIMSS brings thought leaders and experts in health tech to one location and it's a great way to hear the latest industry trends. Don't miss the free training events that will bring you up to speed on current thinking in health tech.
Serious security professionals might consider the following sessions related to cybersecurity:
Cybersecurity Forum: Forum Keynote: Hacking Healthcare – How the Cybersecurity and Infrastructure Security Agency is Here to Help

Building on a strong foundation: utilizing NIST frameworks for risk mitigation

Managing Privacy, Protection, and Compliance with Healthcare Cybersecurity

Update on Health Information Privacy, Security, and Information Blocking



Prepare for HIMSS by joining us for this upcoming webinar.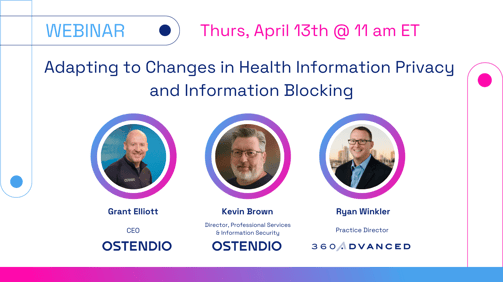 Register now for this Ostendio webinar featuring 360 Advanced.
If you are a first-time attendee consider attending the orientation webinar that HIMSS offers ahead of time. It's a great way to ground yourself and make sure you don't miss some of the highlights of the conference. If you can't attend the webinar, HIMSS also offers an in-person orientation session on Monday 17th April at the event venue.
2. Plan meetings with contacts you know will be at HIMSS in person
You can often plan meetings ahead of time with vendors, partners, or businesses that you are interested in learning more about. Most companies will have information on their website about their attendance at the conference so you can book meetings around the speeches and panels you also want to attend. If there are product demos that you are interested in, make sure you highlight those on your schedule and plan ahead accordingly.
3. Examine the exhibitor list and locate the booths you want to visit
The list of over 1,000 exhibitors can be found here and an interactive floor plan here. Take the time to walk the hall strategically and speak to some of the companies that interest you. You could discover some new partners or vendors that you haven't met before. As a HITRUST Readiness Licensee, we'll definitely be stopping by the HITRUST booth #3717 to talk with experts. If you'd like to meet with Ostendio, you can leave us a message here and we can arrange a meeting that suits your schedule.
4. Don't forget to have some fun and network!
Building your professional network is a key goal that most attendees have for a conference like HIMSS. Meet new people in your industry and learn about their organizations and what's working for them. HIMSS offers many opportunities for professional networking including the Cybersecurity Command Center networking event on Tuesday, April 18, 5:00 pm – 6:00 pm in the South Building, Hall A, Booth 4309 where you can discuss the cyber world today with a light refreshment in hand.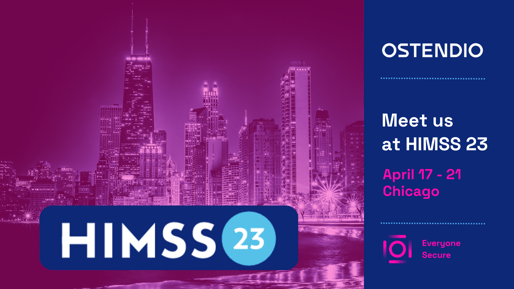 As you build your schedule we hope we can connect with you at HIMSS 2023!
HIMSS Happy Hour - Monday, April 17th, 5-8pm
Kick off the conference in style at the VU rooftop bar. Whether you just arrived in Chicago or you've spent a day at the Cybersecurity Forum, arrange to meet your colleagues at this landmark venue and start networking. Ostendio and 360 Advanced are hosting this event for ISOs, CISOs, and security professionals in the healthcare tech community - RSVP here.
Insider hint: A final piece of advice from one of the Ostendio experts who has attended this event many times - wear comfortable shoes, and bring a few snacks and water. You'll need the endurance to keep up with the pace of this fast-paced conference and the snack stations and restaurants are often very busy.
Here's to a successful HIMSS 2023! Hope to see you there!