Thinking about cybersecurity is a full time, 365 day-a-year job at Ostendio but for many it comes to mind most during October when the National Cybersecurity Alliance partners with companies and government agencies to promote cybersecurity at home and in the workplace. Ostendio is proud to be a champion of Cybersecurity Awareness Month 2020 and to spread the word about how to take proactive steps to increase your data security in your organization.
Ostendio MyVCM is a cloud-based integrated risk management platform that handles over 60,000 user activities each month including document management, security training, asset management and vendor management. These activities mean our customers are using the Ostendio MyVCM platform to protect sensitive information, manage their risk and work towards compliance with over 100 regulations and standards globally including SOC 2, HITRUST, HIPAA, FedRAMP, GDPR and CCPA.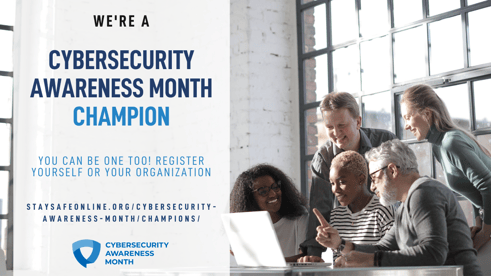 Ostendio is a champion of Cybersecurity Awareness Month 2020
The theme for Cybersecurity Awareness Month 2020 is "Do your part #BeCyberSmart". With the increase in number of remote workers due to COVID-19 and the increased threat of cyberattacks, this theme is important to businesses everywhere. The weeks of October each follow a simple message:
The

first week

of Cybersecurity Awareness Month focuses on the way internet connected devices have impacted our world and how we all have a shared responsibility to reduce risk. IoT is a rapidly growing industry. There are a predicted 50 billion connected devices for this year alone, while 35 billion devices will be installed worldwide by the end of next year.

The

second week

is particularly timely and focuses on the move for many people from working in an office environment to working from home. The message for week two is to look at your security programs both in the office and the home office and to ensure data is protected. One survey

estimates that we will see 25-30% of the workforce working at home on a multiple-days-a-week basis by the end of 2021.

The

third week

will focus on healthcare with its increased use of internet connected devices. With the emergence of telehealth, digital records and patient wellness apps the industry has been exposed to vulnerabilities that can be exploited by cyber criminals. A

recent report

showed that the average cost of a single data breach is the most expensive in Healthcare at $7.13m. Ostendio supports many customers in the healthcare industry who need to follow regulations including HIPAA to protect their customer/patient data. The Ostendio MyVCM platform allows customers to manage and update policies, complete internal audits, assign tasks and complete security training.


Week four

will look at the future of the connected devices and how all businesses need to do their part to protect data and #becybersmart.

By 2020

, there will be tens of billions of devices connected to the Internet, all sharing data. And with the growth of AI, they're already changing how we live and work. For example, Ostendio customers include many medical device companies who are at the forefront of changing the way we manage our health. These customers know that by using Ostendio MyVCM they can manage their data security, protect sensitive customer information and organize their compliance programs in line with security audits including SOC2, HITRUST and over 100 standards and regulations globally.
[Read more: The future of operational risk management]
An effective Security and Risk Management program is essential for any business. It is an investment in the work that your organization does and your reputation, and a commitment to your customers who trust you with their data. It is also a regulatory requirement when you consider PCI, HIPAA, CCPA and GDPR as well as many other state and local regulations. Now is the time to think about your operational risk management plan for the future.
Ostendio works with customers of all sizes from small start-ups to large organizations to help them build, operate and showcase their data security and risk management programs using the industry leading Ostendio MyVCM platform. You can read what our customers say here.
"[Ostendio] MyVCM helped us get our compliance program up and running including organizing our ticketing and audit systems as well as helping us put substance to our policies and procedures." - Keaton R., Co-Founder, Compliance Officer at Health, Wellness and Fitness customer.
To learn more about cybersecurity for your business, check out the Resources Page on our website. It's full of great webinars and e-books that help you make sure you're on the right path with data security and risk management in your own organization.