[4 min read]
If you come from the tech-centric world of Tesla and Apple and enter the world of dental labs where orders are sent by paper, phone or email you are bound to want to make changes. That's what happened to Ostendio customer, Ray Alde, CTO of Arklign. Ray is the co-founder of Arklign and after establishing this innovative dental lab business, he realized from his tech background that security needed to be part of the company culture. Ray also realized that it wasn't going to simply happen, so he chose the Ostendio MyVCM platform to build an always-on data security program.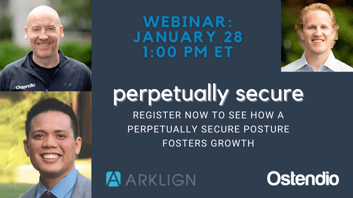 Recently, Ray joined Ostendio CEO, Grant Elliott, for a live webinar chat to discuss how Arklign uses the Ostendio MyVCM platform to drive a culture of security within his company.
During the webinar Ray explains how the Ostendio MyVCM platform helps his entire company maintain a constant focus on security and how it allows them to avoid a traditional boom-or-bust audit mindset.
"I decided to set our company on the right path from the start [with Ostendio MyVCM]. We made security a culture in our organization. It helped mature us faster. It helped put a framework around how we did business." - Ray Alde
Don't have time to listen? Here are 4 key takeaways from the conversation:
Building a culture of security needs to come from company leadership. Ray says his security "mojo" spreads down to all levels of the organization so everyone is aware of the benefits of maintaining a security mindset in all they do. All new and existing employees are trained using the Ostendio MyVCM platform so they understand the importance and sensitivity of patient data and what they need to do individually to ensure it is protected.
Finding a platform that could scale with his growing business was a bonus for Ray. He realized that he didn't need to do everything straight away but could grow the scope of his security program over time and work towards the different standards and regulations appropriate to the size of his organization. Establishing policies to operate in line with HIPAA regulations was just the start, as now Arklign is preparing for SOC 2. Ray realizes that as Arklign continues to grow, so will the scale of the security challenge he faces and he needs a platform that will scale with the company.
Getting help from the Ostendio Professional Services team was a nice bonus as they provided Ray with expert guidance about security and compliance. Ray explains how he didn't have time to do everything that was required himself, so the Ostendio Professional Services team helped with the original setup. He describes it as "a crash course in security" as the Professional Services team provided him with the necessary guidance. Arklign uses the Ostendio MyVCM platform to develop policies and audits. The Ostendio MyVCM platform alerts Ray when policies need to be updated.
Filling out customer security questionnaires is now significantly easier because Arklign has an established security program. The flexibility of the Ostendio MyVCM platform allows Ray to map his answers to customer security questionnaires from various policies that are already created and stored in the Ostendio MyVCM platform. This saves him time and money and helps him to secure contracts for Arklign.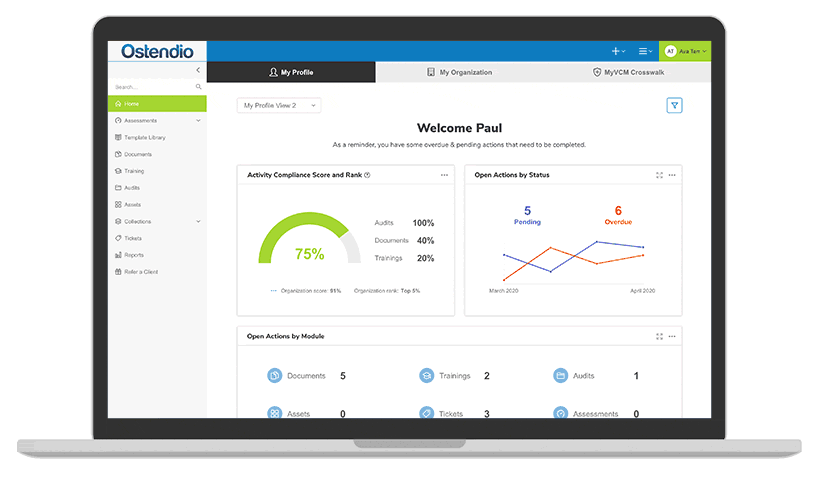 The Ostendio MyVCM platform offers easy to read dashboards clearly showing your security program.
During the webinar Ray also talks about how building a culture of security at Arklign has developed and now Arklign is training dentist customers about the importance of dealing with sensitive information with a compliance mindset. Arklign has been an Ostendio MyVCM Premium customer for 2 years and their innovative mindset is shaking up the dental labs industry. Learn more about Arklign by watching the webinar on-demand.
Ostendio works with customers like Arklign in the healthcare industry but also has customers across other high growth industries from Financial Tech and Insurance to SaaS and IT companies.
Using the Ostendio MyVCM platform to establish and manage their data security and risk management programs has helped hundreds of businesses like Arklign grow. Are you ready to get started? Speak to Ostendio about your data security challenges.